---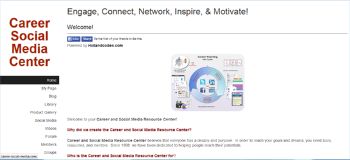 The Career Social Media Resource Center is the All in 1 Resource that is open to anyone who wants to identify their interests, discover their purpose and gather information about careers, colleges, motivation, inspiration, and social media topics.
Member Benefits
Members get access to -
1. Blog
2. Expanded Free Download Library
Free Career Assessments, e.g. Know Your Holland Code
Free Career Guides
Free Presentations
Resume Writing Resources
Interviewing Tips
3. Low Cost Downloads
4. Member Web Pages
5. Store (Product Discounts)
6. Social Media Resources -
Resource One: Blogs - Blogger and Wordpress
Resource Two: Facebook
Resource Three: Linkedin
Resource Four: Pinterest
Resource Five: Twitter
Resource Six: Slideshare - document, PDF, video and webinar
Resource Seven: Infographics - highly visual presentation tool
Resource Eight: Word cloud generator software
Resource Nine: Powerpoint
Resource Nine: Powtoon
8. Videos
10 Top Tips
Test Drive Your Career
9.Digital Course - Build My Career Test
Instructions will be sent via email.  If you so not receive your instructions.   Check Spam folders for email.  If you do not get your instructions, send email to explorecareers at gmail dot com.
---
Share this Product